The only thing cooler than the three novellas that make up the best ever Galactic Holiday, are their three authors. Seriously. So sit back and enjoy this attitude-plus post … and you can believe me when I say: Buy A Galactic Holiday. I'm usually pretty wary of being that bossy, but I got a sneak peek at the antho and it is a keeper and a Christmas re-read for future years. Enjoy!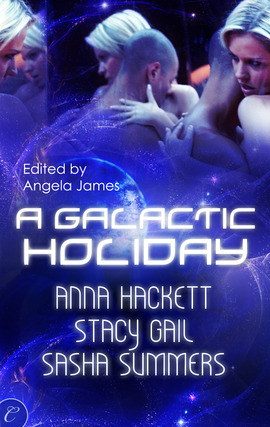 And don't miss the giveaway at the end of the post!
***
Before the fun begins, a special thanks to our host, Jenny Schwartz, lover of speculative romance from steampunk to cyberpunk. Thanks for hosting us, Jenny!
Captain Kirk.  Buck Rogers.  Commander Adama.  Mal Reynolds.  These legendary sci-fi heroes were deserving of that label—ready, willing and able to protect those who couldn't protect themselves, even when the odds were long and luck of the good kind was nowhere to be found.  For those steely men resolved to triumph no matter the cost, there was usually a female sidekick lurking nearby.  But let's face it—more often than not (outside of Firefly's Lt. Zoe Washburne) the average science fiction female is usually in the background doing the futuristic version of clutching the pearls, and telling the hero how uber-awesome he is once bad-guy butt has been kicked.  Not that he wasn't awesome—he was.  They ALL were.
But there's always that lingering question…when is it going to be the woman's turn to step into the hero's spotlight?
Thanks in part to A GALACTIC HOLIDAY, that question is now answered.  Each author has her own take on the unique strengths shown in the heroines they've created—strengths that we each have within us all.
Anna: I think it's important to remember that strength doesn't always mean bulging muscles and the man with the biggest gun (no pun intended!) In WINTER FUSION, my heroine, Brinn Fjord, has fought hard to get her planet, Perma into the Intergalactic Trade Guild and become Perma's top trade negotiator. Her strengths aren't from her physical strength or her need to dive into dangerous situations – she's smart, she's tenacious and she's driven to help her planet.
That said, I did toss her and the hero, Savan, into plenty of dangerous situations. You'll see the Savan rescue the Brinn…and you'll also see a few moments where she has to rescue him! At the end of the day, I love seeing two people work together and complement each other. We all show our greatest strengths when we fall in love and Brinn is no different.
Sasha: My heroine, Riley, is different from any other heroine I've ever written. I admit I don't have a lot of experience writing kick-butt women, but I tried to make Riley strong and independent. She's physical without being a fighter, meaning she's capable of taking care of business and fixing pretty much anything mechanical – while retaining a sense of vulnerability. But she's lived her whole life (more or less) on her own, so she doesn't immediately get the whole community concept or how people can work together effectively. And then there was Leo, the disarmingly handsome and distracting hero watching her back. She's not really sure what to do with him… Can she survive on her own? Without a doubt. Does she think on her feet and contribute? Oh yea. Does she learn that needing other people isn't a weakness? Well… you'll have to find out on your own. 😉
Stacy:  My heroine, Detective Reina Vedette, is well aware she's at a disadvantage in her world.  The majority of Chicago's law enforcement community has "upgraded their organic chassis" to become an army of cyborgs.  She's now weaker than everyone in the department; she's slower; she doesn't process raw data at the speed of thought; she's almost painfully fragile in her pure-human skin.
This means only one thing—she has to be smarter than everyone she knows.
This drive is her true strength, an unshakable need to become the futuristic version of Sherlock Holmes.  But even there Reina proves to be so much more; her tenacity to stick to her ideals when the world vilifies her for rejecting body-modification underscores the depth of strength within her.  Yes, it's a courageous thing to chase down the bad guy in a killer blizzard with no regard to her safety (which she does).  But it takes so much more courage to hold your head high when colleagues tear you down just because you're different.  On every level, Reina displays heroic true grit in the face of adversity; she will always strive to prove to herself and the world that an "organic" chassis deserves nothing but the greatest admiration.
For more on these strong women and the men who love them, download a copy of A GALACTIC HOLIDAY today!
Take a moment to enter our fabulous giveaway!
A GALACTIC HOLIDAY – Carina Press | Amazon | B&N | All Romance
Anna Hackett – Website | Facebook | Twitter | Goodreads
Stacy Gail – Website | Facebook | Twitter | Goodreads